Whether you want to raise $10,000 or $1 million to kickstart your business idea or grow an existing business, this Masterclass will show you a clear path for raising all the funding you need.
The Funding Masterclass comprises 5 powerful modules. Each module contains important learning points that will open your eyes to the amazing opportunities for raising capital out there.
WARNING: This Masterclass involves practical work. It is designed for people who are ready to do the work required to raise money for their business. If all you want is theory or book knowledge, this Masterclass is definitely NOT for you.
Get ready for the ride!
Module 1: Understand The Basics
In this module, you'll learn:
--------
The simple ROADMAP FRAMEWORK for raising finance for any business and how this simple 5-step process can significantly improve your chances of attracting investment.
--------
The MOST DANGEROUS Mental Roadblocks that hold many entrepreneurs back from attracting the capital they need for their business;
--------
The CORE MOTIVATIONS that explain why investors and funding organisations are keen to release billions of dollars in funding every year;
--------
The 3 MAJOR TYPES of funding that are available for businesses and the benefits and disadvantages of each one, and the key important factors you MUST consider before you accept any funds from an investor or bank. 
Module 2: Know Your Risk Profile
In this module, you'll learn:
--------
The 7 CRITICAL RISKS that most investors and banks consider before making the decision to invest in any business.
--------
How to calculate your Risk Score by using the Investment Readiness Checklist (IRC) to diagnose the key strengths and weaknesses in your business before you start approaching potential investors.
--------
The key strategies for mitigating the different types of business risks so you can confidently respond to any fears or doubts investors may have about investing in your business.
Module 3: Target The Right Investors
In this module, you'll learn:
--------
The Top 15 SOURCES OF FUNDING you should target to raise capital for your business. These include several sources and opportunities that provide billions of dollars in funding to entrepreneurs and businesses every year.
--------
The Good and Bad sides of each source of funding so you can make objective choices and decisions about the right source of funding for your business;
--------
Real-life examples and SUCCESS STORIES of entrepreneurs who have successfully raised funding for their businesses. Their success proves just how practical and effective these 15 Sources of Funding can be.
--------
Access to the Africa Hot 100 Catalog that contains the names, profiles, type of available funds, and contact Information of 100 firms and organisations that invest in businesses on the African continent.
Module 4: Craft Compelling Proposals
In this module, you'll learn:
--------
How to craft a great pitch and the 10 Most Important Things investors and banks want to see in your pitch or proposal before they invest.
--------
The 4 KEY SECTIONS of an investment-standard business plan and how to structure and craft a Business Plan that is so compelling that investors will want to read everything until the very last page.
--------
A live pitch deck and business plan template that helps you develop your own proposal as you go through this module of the Masterclass.
--------
Real-life samples of a pitch deck and business plan that was successfully used to raise money so that you can develop a great one too.
Module 5: Closing Investment Deals
In this module, you'll learn:
--------
The 11 BUSINESS VALUATION TECHNIQUES you can choose from to put a logical valuation on your business that will help you get a good deal during negotiations with investors.
--------
The most important LEGAL ASPECTS of investment deals and the terms, clauses and conditions to look out for in an investment contract so that you protect your interests in the relationship.
--------
Important NEGOTIATION TIPS AND STRATEGIES for extracting and exchanging value with investors in a way that leads to win-win outcomes.
--------
Understanding the DUE DILIGENCE PROCESS that investors do before they invest and the important factors you must consider and prepare for.
--------
Important tips for managing the relationship with your new investors in a way that builds long-term trust.
Testimonials from clients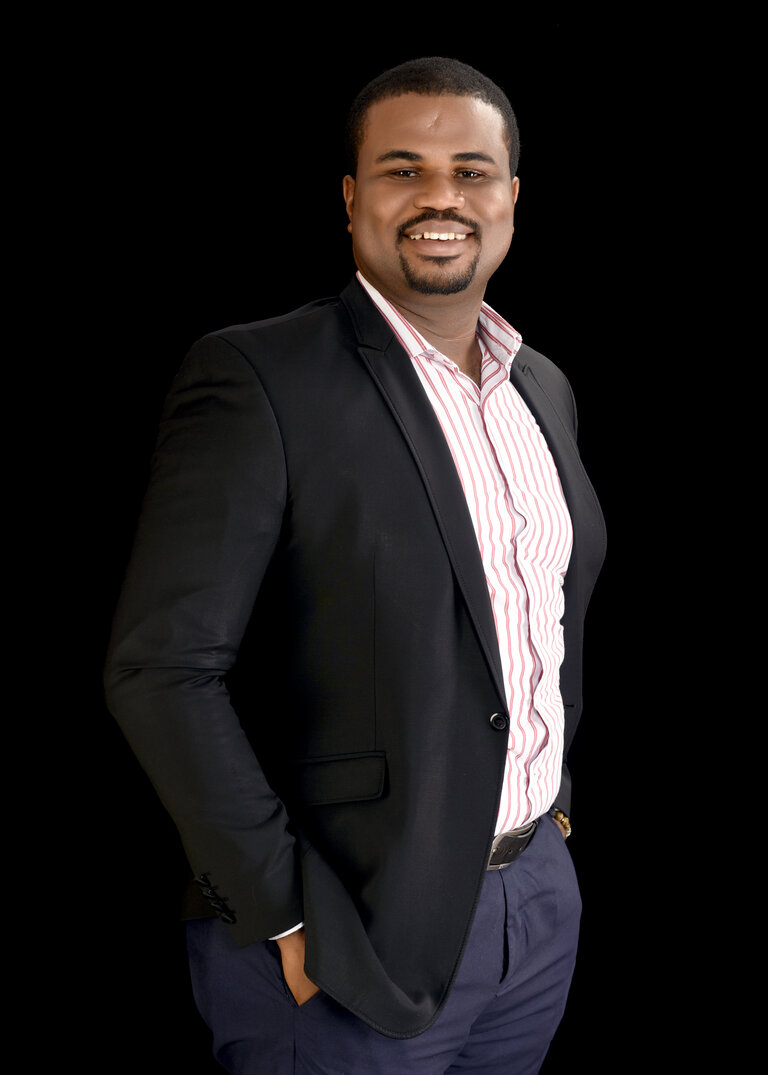 Hi there,
I'm John-Paul Iwuoha, and I'll be your host during the Funding Masterclass.
For almost a decade, I have worked with dozens of entrepreneurs within and outside Africa to attract the money they need to start, grow, expand or turnaround their businesses. To date, my students and clients have raised more than $5 million in equity investments, business loans, grants, and prize money.
I am a chartered certified accountant (ACCA UK) and my background is in business advisory. I started my career in the consulting practice of PricewaterhouseCoopers (PwC), one of the top global business consulting giants. I also held roles in business development and management in the energy industry before I made the life-changing move to become a full-time entrepreneur.
My work, opinion pieces and articles have been featured in several local and international media, including CNN, The Huffington Post and LinkedIn Pulse. With almost 1 million followers on LinkedIn, I was named a global Top Voice on Startups and Entrepreneurship by LinkedIn in 2018. 
I have authored two books, namely '101 Ways To Make Money in Africa' that focuses on business opportunities, and 'Jackpot!' which focuses on fundraising strategies for business. 
I look forward to walking with you as you progress through the Funding Masterclass.
Frequently Asked Questions [FAQs]
===
What exactly is this Program about?
The "Raise up to $1 Million" Program (The Funding Masterclass) is an online training program that is targeted at entrepreneurs and business owners who need to raise additional capital (between $10,000 -- $1 million or more) to support the startup, growth, expansion or turnaround of their businesses.
The Program will teach and expose you to creative fundraising strategies that actually work, and how to identify, target, pitch and convince investors to give you money, among other powerful tips, strategies and advice we have used to get results for our students.
The Program comprises a suite of very valuable resources that include: a comprehensive fundraising reference guide (Jackpot), pre-recorded course videos (The Masterclass), an Investor Catalog, an Investment Readiness Checklist, A Toolbox of templates and samples, access to the exclusive "Insiders" club, and a free, one-time 30-minute fundraising strategy consulting session.
===
Can I realistically raise up to $1 million for my business and how long could it take?
Raising money for business is very different from winning the lottery. You can't just raise any amount you wish for. Investors and banks will only give you the amount of money that you can reasonably justify for your business.
The amount of money you can raise also depends on several factors, such as your industry or type of business, the stage and size of your business/project, the kind of investors and funding sources you target, the attractiveness of your pitch and proposal, and your ability to persevere and follow up.
In terms of timelines, our successful students and clients typically raise money within several months, or sometimes, a few years. Most of them didn't raise $1 million in one round, instead the amount of funding they raised accumulated over time.
===
Can you guarantee that I will raise money after joining this Program?
If you're looking for guarantees, then this Program is NOT for you. Fundraising is a game of merit; you (or someone you hire) have to do the work required to prepare, package, and promote your business for investment.
All our students who have raised between $10,000 and $1 million (or more) have one thing in common: they learned from the Program and followed through with action and persistence. That's the only way to guarantee that you will get results after joining this Program.
You have to be ready to learn, take action on what you've learned, and persevere until you get results.
 ===
When does the Program start and finish?
The "Raise up to $1 Million" Program (The Funding Masterclass) is a completely self-paced online program - you decide when you start and when you finish. All the resources, lesson videos and materials are already available in the Members' portal and you can start learning whenever you want, or learn as fast or as slow as you want.
Some of our students successfully raise money within several months, while others may take longer. But most of our students prefer to take their time and pace their learning so they can maximise the value they get from the Program.
===
How long do I have access to the Program?
The "Raise up to $1 Million" Program (The Funding Masterclass) is a subscription-based membership, with options for FREE (3 Days), monthly, or yearly access. You have access to all the modules, lessons and materials in the Program as long as your subscription is still active.
You can also cancel your subscription whenever you want. All it takes is one click to unsubscribe and delete all your payment information.
===
What if I need help during the Program?
The "Raise up to $1 Million" Program (The Funding Masterclass) is designed to be interactive, responsive, and practical. If you have any challenges or questions regarding any lesson or module in the Program, you can use the Comments section below that lesson and we will respond as soon as possible. You can also use our exclusive, members-only discussion forum [The Insiders] to ask any questions you want about fundraising and get the advice and guidance you need.
===
Will you help me create my pitch and business plan, or introduce me to investors?
There are two ways we can help you: 1) as a student, or 2) as a client.
The "Raise up to $1 Million" Program (The Funding Masterclass) is a DIY (Do-It-Yourself) program for students (people who want to learn and get results on their own). It will teach and show you everything you need to raise funding, with samples, templates, profiles, contact information of potential investors, and opportunities to ask any questions you want and get advice and guidance. And it works superbly for most of our students who have successfully raised money on their own.
However, if you are interested in being a "client" and prefer a private, premium and personalised service, we provide a DFY (Done-For-You) service that allows you to sit back and focus on running your business while we do most of the paper work and investor introductions for you. This service starts at $25,000 (plus a success/deal completion fee).
 If you are interested in our client DFY service, please contact the host or administrator as soon as you join the "Raise up to $1 Million" Program.
===
How can I pay and get started with the Program? 
To get started, click here to choose a payment plan. You will be directed to a checkout page where you will be asked to provide your name, email, and payment information.
The Members' Portal is operated by Teachable Inc. USA, one of the best virtual learning platforms in the world. It accepts most international credit/debit cards such as Mastercard, Visa and American Express.
What are you waiting for?